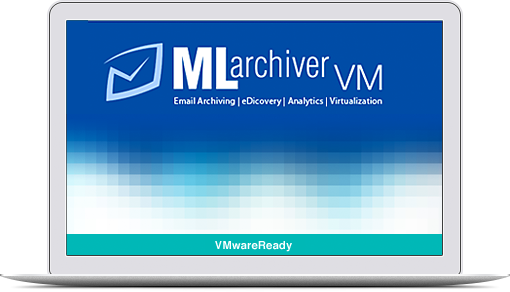 VMwareReady Certified software for compliant email archiving. Meets regulatory, legal, IT and corporate policy requirements.
The Message Logic MLArchiverVM combines industry-leading archiving and compliance monitoring with the scale-on-demand VMware virtualization capabilities to deliver a powerful, long-term solution to your email archiving and legal discovery requirements.
Maintain your company's competitive edge by choosing the best virtualization solution that meets your business requirements today – and can grow with your business tomorrow. MLArchiverVM is an intelligent archiving and compliance monitoring system that speeds up investigations, reduces litigation costs, manages compliance policies, and cuts IT operational expenses – reducing business risk.

The only virtualization software for email archiving

HyperV Software

Installs in 30 minutes in any virtual environment

Scales to any size archive

Fast, reliable, compliant

Deploy on-premise
MLArchiverVM runs in any virtual environment

Optimize to work on every major cloud provider infrastructure
IBM Softlayer
Amazon Web Services (AWS)
VMware vCloudAir
Microsoft Azure
On-premise or deploy in your favorite cloud.