The Power of Message Logic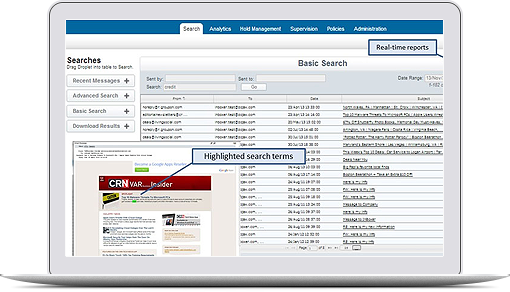 Exclusive Smart Archiving™
Smart Archiving by Message Logic is a new, intelligent way to archive electronic messages, combining functions for email records management, retention policies, advanced searching, analytics, policy violation alerts and more, into one advanced solution. Don't just archive your emails, "know what you are archiving."

Administration
Easy to use Admin Console to manage policies, user access, connections to mail servers and much more.

Compatibility
Compatible with nearly all mail servers. We offer many ways to connect to your email server with no on-site software.

Retention Policy
Establish corporate policy to systematically retain messages and remove them on their expiration date.

Legal Hold & Tagging
Set up and apply Legal Hold tags and general tags on any message criteria. Both manual and automated options are available.
Security
Our comprehensive security system includes secure user access, SSL encryption, file encryption, and the storage of messages as "unalterable" corporate records. These corporate records are stored with a customer defined retention policy, to ensure the absolute security and integrity of our customers' business information.
Analytics
Real time analytics provide meaningful information from your archive to assist you in meeting compliance requirements, enforcing corporate policy and effectively managing your business.
Compliant Storage
We provide message deduplication for efficient storage management and our Cloud solutions provide redundant and encrypted storage.
Compliance
Our solutions meet all of the major regulatory compliance and records management requirements, which include SEC, FINRA, HIPAA, SOX, Freedom of Information Act, Sunshine Laws, Sarbanes-Oxley, and Federal Rules of Civil Procedures to name some.
Supervision
For financial firms who are required to supervise registered representatives, we offer a console to automate the process. This includes options to track trading terms, random message sampling, % sampling of inbound, outbound or internal messages, compliance reports and much more.

Ease of Use, Affordable: Designed to be easy to use and feature rich. The interface is intuitive, yet the features are advanced and powerful.

Records Management: Each message and attachment becomes a full searchable document, ready for review and fast production when needed.

Regulatory & Litigation Process: Makes responding to regulatory or litigation search and production requests quick and easy. Key features include: Basic search, advanced search, retention policies, legal hold, supervision, dynamic folders, tagging, FRCP.

Compliant: Meets record retention requirements including; Freedom of Information Act, Sarbanes-Oxley, HIPAA, SEC, FINRA, FDA, Department of Defense, Patriot Act, Sunshine Laws, Open Meeting laws, and international equivalents.

Analytics: Powerful analytic engine to track 50 standard and custom analytic categories of information, allowing, you to "know what you are archiving"; allows you to identify concerns and even provide real-time alerts to the sender, receiver or a manager.

Employee Access & Email Storage Cost: All messages are preserved and by using our web based or Outlook access options, employees can get access to their older messages. This allows you to significantly reduce your storage cost, while ensuring that you have a record of every message with full access for employees, should they need to locate one.

On-Site and Off-Site Options: We offer both on-site and off-site deployment options including the ability to build a solution within your public or private cloud account. All with the flexibility and scalability of virtualization and cloud computing.
* These fields are required.